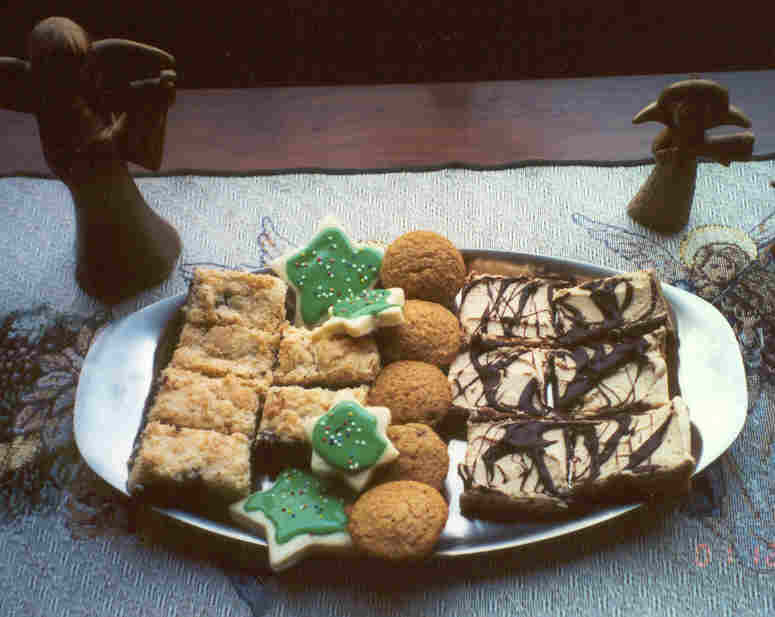 Some tips for surviving the holidays:
1. Plan ahead...bake when you're able, and freeze as much as you can.

2. Put the kids to work...they'll love baking and decorating cookies with you!

3. Work with the person fixing the main holiday meal to see if there are ways to make gfcf adaptations. (We bring our own milk and margarine to add to mashed potatoes, and I bring a gfcf salad).

4. Find ways to make life simpler. We use snacks like the ones I've listed on the "snack" page on this web site. Dessert after the main meal is often gfcf ice cream. (Have you tried Soy Delicious? It's fabulous, and is available in many different flavors. Our favorites are strawberry and mint marble fudge. The peanut butter and the chocolate flavors are also wonderful.)

5. Keep a sense of humor! Enjoy the holidays, even if you don't feel totally prepared.
Cranberry Orange Salad
1. Boil 1-1/2 cups water.

2. Dissolve 2 packages (4 serving size) orange gelatin in the boiling water. (Stir until gelatin no longer sticks to the spoon.)

3. Add:
1/2 cup cold water
1 tablespoon lemon juice
1/4 teaspoon cinnamon
1/8 teaspoon ground cloves

4. Chill until thickened, but not set.

5. Fold in 1-16 ounce can whole berry cranberry sauce.

6. Fold in one orange, peeled and cut into small bites.

If desired, pour into a 5-cup mold.
Chill until firm, and unmold prior to serving. (If salad does not easily come out of the mold, you can dip the bottom of the mold in warm water first).
Holiday Stuffing
4 cups gfcf bread cubes (I have a few different recipes in my cookbook. I also recommend following the bread machine recipe on the back of Bob's Red Mill Potato Starch).

Place bread cubes in a large bowl and mix with:
1 Tablespoon parsley
1/2 teaspoon salt
1/2 teaspoon sage
1/4 teaspoon thyme
Set aside.

In a saucepan combine:
1/4 cup gfcf margarine
1/4 cup onion

Cook until onion is tender.

Remove from heat and add:
dash pepper
1/2 cup chicken broth
2 tablespoons cooking wine (optional)
4 ounces canned mushrooms (optional)
1 beaten egg

Pour over the bread cubes and seasonings.
Grease 2-quart baking dish.
Cover and bake at 350 degrees for 30 minutes.
Uncover and cook an additional 15 minutes

**If you prefer, this can be used to stuff a turkey instead of baking it separately!
For additional festive recipes such as Creamy Mashed Potatoes, Cinnamon Crescents, Pumpkin Bread, Pumpkin Bars, and Cut-Out Sugar Cookies, you can order my cookbook in time for holiday cooking and baking!
Happy Holidays!